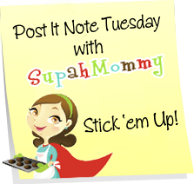 WHOOOOOOOOOOOOOOOO
HOOOOOOOOOOOOOOOoo!!!
Welcome back to Post It Tuesday!!! The funnest day in all of bloggy land! AND thank God something for me to smile about today!!!!!! 8-)
Anypost-it - join in the fun
and link it up at Supah Mommys
HERE
YEP! That's right! I got an award!!!
*doin the cabbage patch*
*doin the sprinkler*
*doin the q-tip*
YAY ME! and YAY for the sunshine.
Someone must have missed my LACK OF Motivational Monday post!!!!!!
At least I'm gettin it SOMEWHERE!!!!!!!!!
(that's what she said!!!!! LMAO!)
Anywhooooo - THANKS mucho to
now on to the rest of the posties!!!!!!
SOMEBODY ASK ME ABOUT THAT!!!!!!!