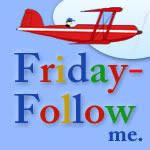 It's FRRRRIIIIIIIIIIIIIDAY!!!!!!!
It's June 4th, 2010
ORIENTATION DAY!!!!!!!!!
For all you newbies to my blog - I've applied and been waiting to get into sonography (ultrasound) school. I found out 2 weeks ago that I'm IN!!!
Today is orientation......
I'm sooooooooo EXCITED!!!!
EXCITED I got in....
EXCITED to finally have an answer and a direction
& EXCITED to get a schedule today to know what the next year has in store for me!!!
Anyway - I hope everyone has an AWESOME Friday
oh AND - because I got accepted into school - I get to mark another thing off my
35 things to do before I'm 35....
Stay tuned tomorrow - I will update my list.....I've been hard at work!!!!!!!! HA HA