Welcome back to Post-It Note Tuesday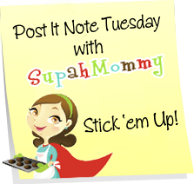 I took the week off last week but I'm Baaaaaaack!!!!!!
Thank ya GEEEZUS! LOL
Feel free to comment - or link up and post your own Post-it Notes!
You can make your own Post It Notes
<>
and....run over and check out
Supah Mommy's
post its and you can link up there!
He LOOOOOVES him some Kenny Chesney!!!
One day I WILL provoke him enough to get his butt on here and show his face ;-)