It's FOLLOW ME FRIDAY!!!
Go over to Friday Follow Sites and GET IN ON THIS CONTEST!
Welcome Friday Follow Friends
Every Friday visit Trendy Treehouse to link up to follow blogs and have them follow you.
Here's how it works...
Add your blog link to the McLinky below ~ remember to leave your blog name under "Your Name"
Follow Trendy Treehouse !!!
Grab the "Follow Me Fridays" button for your blog ~ so more blogs can share in the fun!
Follow other blogs that have linked up ~ Comment there letting them know you are now following them and visiting from Follow Me Fridays!
If someone follows you, follow them back, It's only fair. LOL
The more you follow, the more will follow you!
It's that easy!
Blogs only please ~ No advertising links! Have Fun!
And KEEP SCROLLING past Mr. Linky for some fun contest $$$$$$ rules!!!
Supahmommy is hosting a CASH PRIZE GIVEAWAY!!!!!!!!!!!!!!!
WHOOOOOOO HOOOOOOOOOOOO!!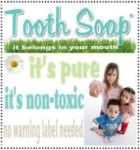 "I LOVE TOOTH SOAP®" CASH Giveaway!Guess what ya'll? Toothsoap.com is going to sponsor a special GRAND giveaway exclusively for Friday Followers! Read on to find out how you can win one of three $100 CASH prizes and join us this Friday, March 26th to win.
Toothsoap.com " I LOVE TOOTH SOAP®"
CASH Giveaway!
Go here for details!
http://www.middayescapades.com/