YAY - I found a new game to play!!! AND it's Friday!!!
I spotted this over at
BAT CRAP CRAZY
!!!
Man I love her!!!
She sent me right over to
High-Heeled Love
and I'm going to participate today.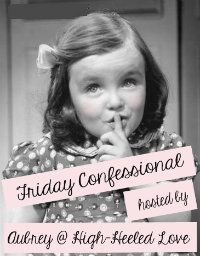 So without further adieu
Here are my Friday Confessionals!!!
((Don't judge ME!))
I confess...
I confess...
I'm jealous of the people who went to school to be teachers...... but
ONLY
on snow days!!! No way I would have the patience to teach, but I sure would like to get snow days!!
I confess....
I confess....
I find it very easy to dismiss someone for hurting me and go on with my life as though that person never existed. Some say that makes me cold and heartless... It doesn't mean I don't forgive them.... it just means I have no room for extra baggage in my life. I have very little tolerance for whiners, hypocrites and liars!
I confess....
People often think I'm snobby, cold, and/or unsociable. I'm quite the opposite. I'm sensitive and an open book once I start chatting. It's just that usually I'm more worried about speaking to someone who doesn't remember me and embarrassing them... cause I hate when that happens to me. And I can be a bit overwhelming to private people... I'm never sure how people will take me.
I confess....
I am very independent and quite hard headed. But every now and then.... I do like to be treated like a little princess! It's hard to know where that line lies!
(poor B-rad! He does pretty good with figuring it out!)
Hope everyone has a GREAT Friday and a fantastic weeekend!!!
I sure wish I was home today enjoying a SNOW DAY!!!!