At 18, I found out I was pregnant.
Obviously, not being married and fresh out of high school, this was an unplanned big surprise to me...
Coming from a relationship with my mother that was not so perfect at the time, I planned to do everything "BETTER"!!
I had NO idea what I was in for.
After his birth, finding a joy and love in a child I never knew I could feel, I have also found a hurt that NO ONE else could ever put on me.
I have been a single mother for 15 years. and YES - there have been hard times and OH YES, there have been many many mistakes.
I'm not perfect
nor did I ever claim to be
But I tried.... oh how I have tried.
My son is now about a week away from being 16.
And looking back over the years, I realize, being a mother is a constant looking back at what I did wrong.
I did my best to make sure my son always had not just his needs met, but also most of his "wants". Turns out now all those things are taken for granted and being told NO makes me the meanest mom in the world.
I did my best to make sure the house was clean and clothes were washed and our place was nice, no matter where we lived. Turns out now my son seems to be ignorant to what "cleaning your room" actually means, and even getting dirty clothes to the laundry room is a chore, much less turning on a washing machine or dryer.
I did my best to make sure decisions were made that would benefit him in the long run rather than making decisions based on a whim or a mood. Turns out now all his decisions are based on what kind of mood he happens to be in that day.
I did my best to accentuate his talents in sports... basketball and baseball. I did my best to make sure he always played and had what he needed and was praised for good efforts! Turns out when everything was easy and handed to him, no effort was required on his part. NOW anything that requires hard work or effort is not something he wants to be a part of. He just wants to have fun.
I did my best to talk to him about peer pressure and alcohol and drugs and things he would soon be faced with. Turns out I had NO idea how much more pressure there is on kids these days and things I thought he could stand up to, he didn't.
I did my best to raise him with values and work ethic and love and compassion and desire...
I did my best to show him how HARD we have to work everyday, but there is still time for fun...
I did my best to show him that no matter how hard life gets, his mom will always be here...
I did my best to show him that tough love means I love you, but I have to prepare you for hurt...
I did what I thought was right at the time, but I can say today that the more I thought I did right... the more that things just constantly remind me that it doesn't matter.
Right or Wrong?
There is no right or wrong!!
All you can do is instill all the values in the world in your child and show them that you love them.
At some point, you have to release those mommy strings and LET THEM FALL.
and ohhhhhhhhhhh how that HURTS.
and ohhhhhhhh how it makes me feel like a failure and like I DID do everything wrong.
And every time I get a letter from a teacher at school, or a phone call from another parent, or a comment from my husband, or hear a story about a party, I am just reminded that after all these years.... I don't know who I am anymore... I don't know what to do anymore... I don't know where the line is between loving and letting go.
I don't know this child that resides in my home anymore. And I don't know me anymore.
All I know is most days, my heart just hurts.
My pushing only causes fights. He pushes back.
He's trying to spread his wings too.
So I walk away.... and let him fly.... and watch him fall. And try to be here when he needs me.
I don't know who I'm supposed to be anymore?
Did I EVER know??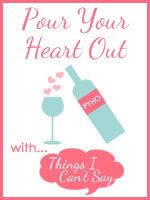 Link up here to pour your heart out with Shelly - or go and read some of the other posts.